Limbe, April 05 2021 – The Alexander von Humboldt Foundation has awarded Dr. Mrs Floriane Mefo Kue, a mathematician of Cameroonian origin, the prestigious Feodor Lynen Research Fellowship for a two-year research stay at AIMS Cameroon. Dr. Kue will undertake the fellowship from August 2021 at AIMS Cameroon, with the Centre's President, Prof. Mama Foupouagnigni as academic host and main research collaborator. Granted by the Alexander von Humboldt Foundation, with funding from the Federal Ministry of Education and Research, the Feodor-Lynen Fellowship enables researchers from Germany at all career levels and all disciplines to conduct research with members of the Humboldt network around the world.
"We are very pleased to host a beneficiary of the Fellowship named after biochemist and Nobel laureate Feodor Lynen, who as President of the Alexander von Humboldt Foundation, advocated opening up the international Humboldt Network to junior researchers from Germany. I look forward to working with Dr. Floriane Mefo Kue as research collaborator during her two-year stay in Cameroon," said Prof. Mama Foupouagnigni, AIMS Cameroon Centre President and Chief Academic Officer of the AIMS Global Network.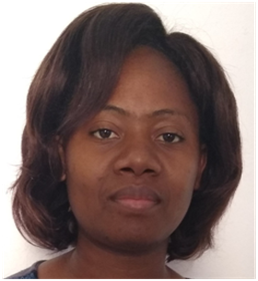 "I am honoured and grateful to the Alexander von Humboldt Foundation for awarding me this fellowship. The project will allow me to foster, maintain, and strengthen the research collaboration with my host and other researchers while achieving professional maturity and ascending to career possibilities," said Dr. Floriane Mefo Kue. "The main goal of this project is to identify and explore novel properties, optimality conditions, and efficient computational methods for the numerical solution of bilevel optimization problems that are constrained in the lower level by inverse and optimal control problems," she said.
Born in 1987 in Nkoteng, Cameroon, Dr. Kue studied mathematics at the University of Yaoundé from 2004 to 2011. She obtained a Master's in mathematics for teachers (DIPES II) from the Higher Teacher Training College of Yaoundé. Through a scholarship from DAAD (Deutsche Akademische Austauschdienst), she completed her PhD at the Technical University Bergakedemie of Freiberg in Germany, where she worked as a Research Associate for one year before joining the University of Siegen as a Research Assistant in June 2018. A married mother of three, Dr. Kue is also a mentor in the Online-Mentoring Program CyberMentor Plus (University of Regensburg and Friedrich-Alexander-University) and Mentee in the Women's Mentoring Program (FraMeS) at the University of Siegen.
About AIMS
Founded in 2003, the African Institute for Mathematical Sciences (AIMS) is a pan-African network of centres of excellence for post-graduate training in mathematical sciences, research and public engagement in STEM. With centres in South Africa, Senegal, Ghana, Cameroon and Rwanda, AIMS is leading Africa's socio-economic transformation through innovative scientific training, cutting-edge research, and public engagement. With expertly tailored academic and non-academic programs spanning through Centres of Excellence, Research Centres, the AIMS Industry Initiative and gender-responsive Teacher Training, AIMS equally created two critical initiatives: Quantum Leap Africa, which aspires to do leading-edge research in quantum science, and the Next Einstein Forum, which is positioning Africa to become an important player in global science. For more information, visit www.nexteinstein.org; www.aims-cameroon.org.