AIMS Teacher Training Program (TTP) in partnership with Mastercard Foundation and the Government of Cameroon has launched a cluster membership drive dubbed "Back To School With Mathematics" to promote the collaborative professional development of teachers.

At the start of the 2021-2022 academic year, the message sent out by the TTP team to over 2006 in-service mathematics teachers TTP has trained in the country, urges them to join clusters, work in the clusters, motivate each other, share knowledge and abilities so that they can teach Mathematics differently.
In the same vein, the AIMS TTP Team has congratulated Cluster Leaders for their efforts and the work done during vacation. In the message below sent to cluster leaders on September 7, 2021, AIMS TTP Team informs them that all AIMS TTP activities will henceforth be based on clusters.
"Dear Cluster Leaders, Dear Colleagues, Good Day. 
AIMS TTP wishes you all a very successful school resumption 2021-2022. Happy Back-To-School 2021-2022 with Mathematics. 
We would like to congratulate you for all your efforts and the work done during the vacation, including the preparation of pedagogic projects, progress sheets and activity sheets for some. It was a great and successful job. We congratulate you all. We want to invite everyone to do more and work in clusters. 
Remember, any and all AIMS TTP activities will henceforth be based on clusters. We are therefore challenged to organize and work in clusters throughout this school year. We encourage you to assemble your lesson notes, discuss and practice them among yourselves. In fact, your professional development will depend on the activities you will carry out in your clusters. 
Furthermore, let us remember that an increase of 1 point in Mathematics induces a 5 to 7 point increase in the other disciplines. So if we went from 5/20 on average at the BEPC to 6 or 7/20, then we would achieve more than 95% success. 
Colleagues, Courage to all of us. Happy Back-To-School 2021-2022 with Mathematics."
The AIMS TTP team
AIMS TTP has so far designated and trained more than 384 (41 female) Cluster Leaders across the country.
A Cluster is a group of Mathematics teachers from the same school or from schools within the same zone who collaborate regularly among themselves, with the support of TTP Cameroon to learn and teach Mathematics differently. AIMS TTP has thus created Clusters in all the Regions and Regional Coordinating Inspectors designated as Regional Focal Points and coaches of teachers.

AIMS TTP Cameroon developed and implemented a Cluster Strategy that provides peer-to-peer support to teachers in close proximity through physical associations known as Clusters. The cluster strategy allows a multi-directional flow of information (top-down, bottom-up, and horizontal) with information and coaching coming from Master Trainers while innovation and feedback flow from the teachers upwards.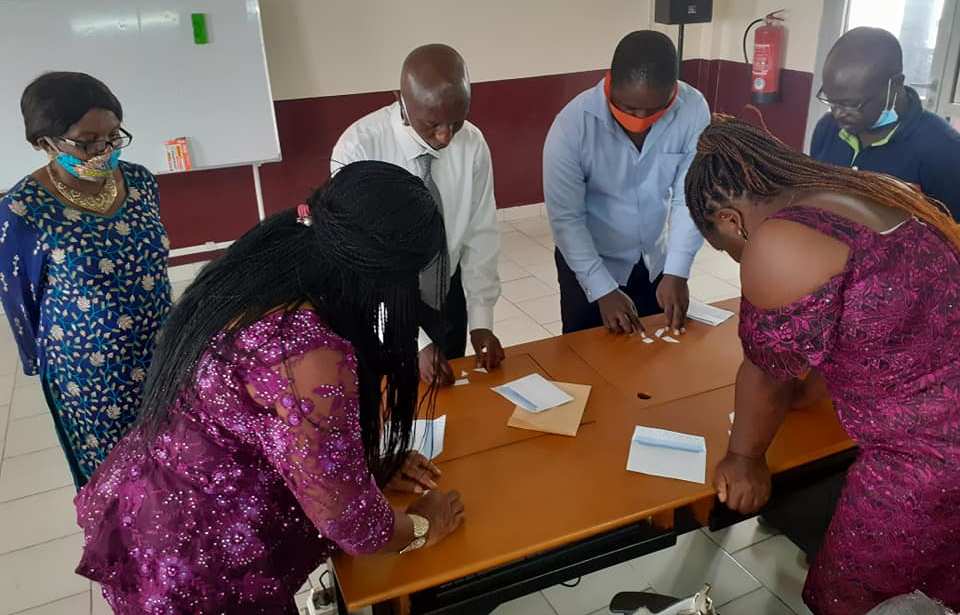 AIMS TTP created the Cluster Strategy after concertation with the Ministry of Secondary Education to not only boost the Follow-up (third) Phase of the nationwide training of secondary school Mathematics teachers but to also provide teachers with a platform to share professional experiences and best classroom practices while encouraging creativity and collaboration as a peer support mechanism. After the 38th and last training workshop organized for Mathematics teachers by AIMS TTP last academic year, the Follow-Up Phase started with several clusters already active on the ground nationwide. The active clusters even organized activities nationwide to celebrate the International Day of Mathematics on March 14th.