The presentation by the Sudanese-born AIMS Cameroon 2020 Cooperative Master's alumna won among 24 talks delivered at this year's edition of the scientific event dubbed "AIMS-Germany Minisymposium on Applied Mathematics 2021" hosted by the University of Passau.

A release by co-organizer Prof. Dr. Vladimir Shikhman of Chemnitz University of Technology says the three winners of the German Academic Exchange Service (DAAD) Prizes are Nessma Adil from AIMS Cameroon, Pierre Aimé Feulefack from Frankfurt University in Germany, as well as Rockefeller from AIMS South Africa. It should be noted that Pierre Aimé Feulefack is also an AIMS Cameroon 2016 alumnus. He is currently a Ph.D. Research Fellow in a sandwich between AIMS Senegal and Frankfurt University. while Rockefeller is an AIMS Senegal alumnus.

The AIMS-Germany Minisymposium is devoted to the current research in the area of Applied Mathematics conducted by researchers from the AIMS network and their partners. The participants, mainly PhDs and Post-Docs, will have an opportunity for international networking and visibility while presenting their research results.

The DAAD Award enriches the academic research gallery of the young avid researcher Nessma Adil who is also a Master's student at Mittweida University of Applied Sciences where she works under the supervision of Prof. Dr. Kristan A. Schneider to carry out cutting-edge research on infectious disease epidemiology and global health.

In effect, this Mastercard Foundation (2018-2020), DAAD (2020), and Erasmus+ (2021) scholar has co-authored two COVID-19-related publications, one of which she was the first author. Her research interests include mathematical biology, biostatistics, epidemiology, and global health.

"Currently, I am focusing on my Ph.D. studies, alongside working on different projects under the supervision of Prof. Kristan A. Schneider in his research group "Maths against Malaria". My doctorate dissertation is tailored on a statistical framework to study the evolutionary dynamics of malaria-resistant haplotypes – I am working on this topic now, with the plan of publishing the project within the upcoming months. I have two COVID-19 related publications, namely "Preventing COVID-19 spread in closed facilities by regular testing of employees An efficient intervention in long-term care facilities and prisons?", and "The impact of COVID-19 vaccination campaigns accounting for antibody-dependent enhancement", plus another COVID-19 related project in the pipeline."

A more recent discussion by Nessma, related to STEM careers, was also brought up in a panel discussion during the International Week 2021 at Hochschule Mittweida, under the theme "Africa's Young Future: Future of the Continent." This year's International Week at Mittweida University of Applied Sciences focused on Africa and cooperation with its neighbouring continent Europe.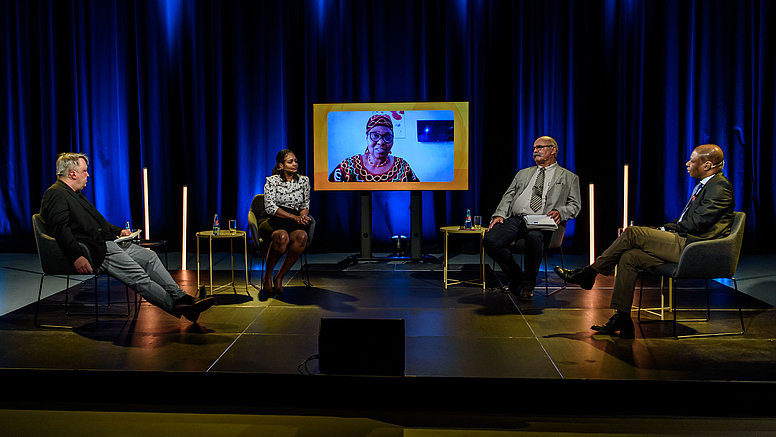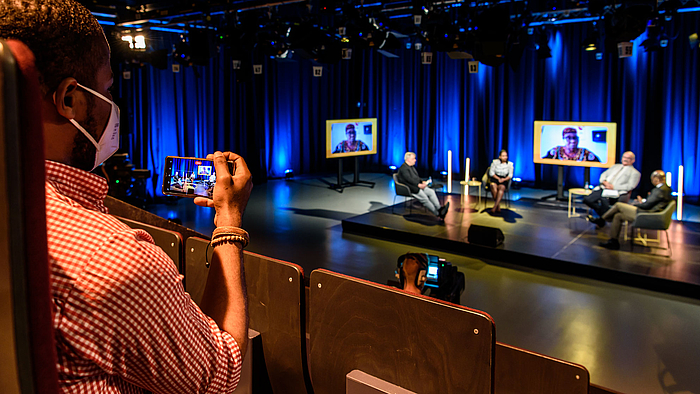 Prior to her arrival at AIMS-Cameroon for the Cooperative Master's Program (cohort 2018-2020), Nessma Adil Mahmoud Yousif had graduated with a Bachelor's degree from Al-Neelain University, Khartoum, Sudan. But she remains grateful to AIMS Cameroon

"AIMS represented the bridge between the education I had in Sudan (Bachelor's degree) and the advanced training I am receiving now in Germany. AIMS provided me with academic (programming, research skills, scientific training, practical experience "Cooperative Master's program", etc) and non-academic (soft skills, building an international network, teamwork. etc) skills. I also found my voice as a scientist and a researcher. AIMS also helped me gain more confidence and – most of all – an understanding of the importance of the role of the youth in building the continent, Mama Africa. I was the head of the Gender Club back at AIMS, mentored by Mrs. Ngeche Doris Nkwate. I am extremely proud that I held that position. I am especially thankful that I had the opportunity to organize several events, including "International Day of Women and Girls in Science", and the "International Women's Day 2019″ where I had the chance to give a motivational speech related to Women and showcase careers in STEM," Nessma recalls.

What attracted Nessma to Mathematical Sciences could be the reasons for her passion and success in academics and research today. "Ever since I became aware of the world around me, I wanted to build a career that challenges my brain, intelligence and prevents me from staying idle. I also had a mature sense of responsibility since a young age that bound me to empower my community and organise give-back activities. Mathematical sciences made sense to me because they provided me with the skills and the brainpower to pursue everything I ever wanted to achieve."

Nessma's vision for Africa is inextricably linked to her thought that Africa has all the resources needed to rise. "It saddens me to see all the suffering, given the enormous natural and human resources the continent has. Fortunately, this also means that Africa has a vast room to develop and grow. I have a very optimistic vision regarding the future of Africa, especially with the growing of self-aware and motivated generations. Development-related problems are – definitely – considerable obstacles. Despite that, I am confident that Africa will be reintroduced within the next decades as a united, intelligent, and resilient nation. The best part will be that the continent will remain authentic to its values, principles, and traditions."

9th Cohort students at AIMS Cameroon were amazed on September 22, 2021, by Nessma's presentation of the findings of her research project titled "Preventing COVID-19 Spread in Closed Facilities by Regular Testing of Employees – An efficient intervention in long-term care facilities and prisons?"