AIMS Cameroon began the series of skills courses for this year's cohort with the traditional course on Mathematical Problem Solving, taught by the much-admired Prof. Ferdinand Ngakeu of the University of Douala on September 18th, 2021.
The course which seeks to endow the students with the skills and tools for solving problems by leveraging the logical thought sequence of mathematics, started with the Center President introducing the lecturer to the students, highlighting his pedagogic experience and commitment to the mission and vision of AIMS.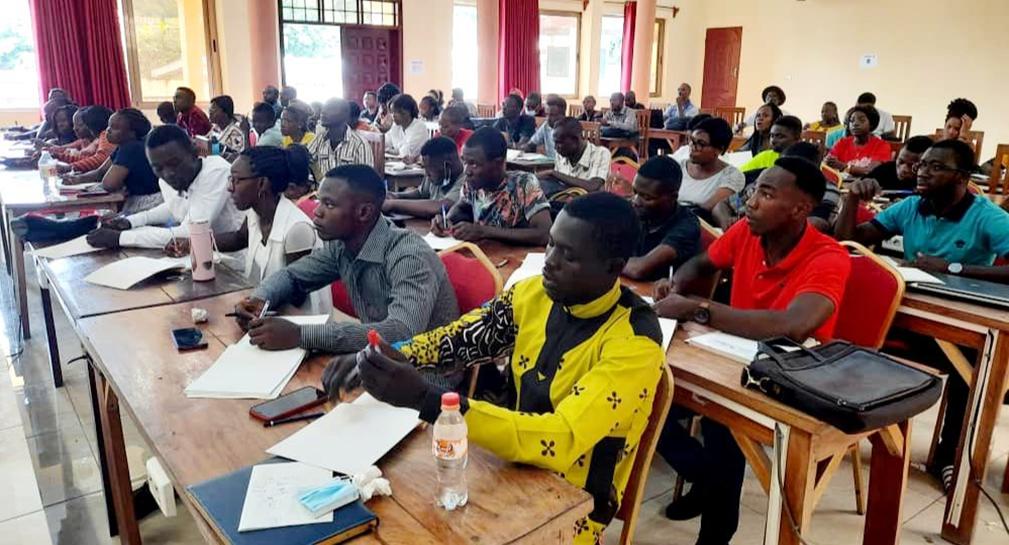 After extending congratulatory remarks to the students on their admission to AIMS' Structured Master's program, Prof. Ngakeu proceeded to open the lecture by inviting all present in the lecture hall to join him observe a minute of silence in honour of Prof. Marco Garuti, AIMS Cameroon's deceased Academic Director.
The silence and sadness that enveloped the room, were soon washed away by the excitement of learners who were eager to start the learning journey at AIMS.
"Now, let us begin", said Prof. Ngakeu, and begin we did.
The 60 new students, 43% of whom are women, arrived at AIMS Cameroon's campus in Bota, Limbe, this week to take a 10-month Master's Degree course in Mathematical Sciences.
The 2021-2022 Cohort comprises 40 Cameroonians and 20 international students from Chad, the Democratic Republic of Congo, Egypt, Ethiopia, Ghana, Kenya, Nigeria, Burkina Faso, Sudan, and Zambia.
These 60 new students have been enrolled in the three new streams of the Structured Master's Degree Program. While 22 students will study Fundamental Science, 17 will study Data Science, and 21 students chose the Climate Science stream.