"We will continue with the AIMS-Cameroon Research Center Colloquium series during Fall 2021 (September 21 – November 30, 2021) at our usual time (Tuesdays at 5:00 pm WAT). We have an excellent group of speakers this semester with already scheduled talks," said the Acting Research Chair, Dr. Jean-Daniel Djida, in a release yesterday August 24th, 2021.
The Speakers this Fall include Mouhamed Moustapha Fall (Aims-Senegal, Senegal)  Mark Allen (Brigham Young University, USA), Virginia Naibo (Kansas State University, USA), Alexis Vasseur (UT Austin, USA), Biswa Animesh (U Nebraska-Lincoln, USA), Maria Soria Carro (UT Austin, USA), Alejandro J Castro (U Nazarbayev, Kazahstan), Fernandez-Real Xavier (EPFL Lausanne, Switzerland), Enrico Valdinoci (U Western Australia, Australia), Connor Mooney (UC Davis, USA), Mary Vaughan  (UT Austin, USA) and Luciano Ullod (Universidade de Zaragoza, Spain). More details on their presentations are available here:  https://aims-cameroon.org/colloquiums/.
Don't Miss the Virtual Colloquium with Prof. Mark Allen on "Sharp Quantitative Fabet-Krahn Inequalities and the Alt-Caffarelli-Fredman Monotonicity Formula" this Tuesday, September 21, 2021 at 5pm WAT/ 4pm GMT.  This will be the first Talk in AIMS-Cameroon Research Center Colloquium series during Fall 2021 (September 21 – November 30, 2021)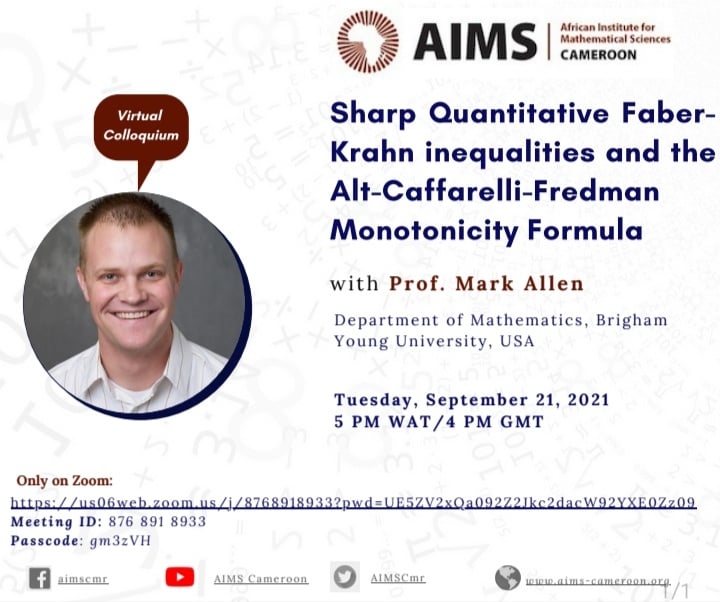 The AIMS-Cameroon Research Centre is located in the campus of AIMS-Cameroon at Crystal Garden in Limbe, Cameroon. The Centre came into existence in 2017 with the appointment of Prof. Gisèle Mophou as German Research Chair in Mathematics and its Applications, supported by Alexander von Humboldt and DAAD in collaboration with universities in Cameroon and financed by the German Federal Ministry of Education and Research (BMBF).
Its mission is to conduct and foster exceptional research as well as national Lab, industry, continental, and international collaborations. The areas of research include Mathematical Analysis, Nonlinear Analysis, Partial Differential Equations, Climate Sciences, Shape Optimization, Control Theory, Deep Learning and Big Data, with a broad range of applications to real-world problems such as environmental pollution, coastal erosion, urban, networks and problems arising in some local companies.
The Research Centre's Goals are to provide unique learning experiences for students and researchers; provide a space for mathematical scientists to work and interact with local researchers within the Country and AIMS students; as well as to foster ties between Academia, National Labs, Industry, and Government.
The Centre is equipped with WIFI and has an appropriate environment for research. Since 2017, the Research Centre has welcomed more than 200 visitors to summer schools, workshops, seminars, international conferences, short research visits (1-2 weeks), and long-term research visits (2-4 weeks).
#AimsCmrColloquiums2021