His coming to AIMS Cameroon's Centre of Excellence in Limbe every year is always full extracurricular expectations and surprises. Beyond leading brilliant students from several African countries into the labyrinths of mathematical modelling, Prof. Martin Eichner is an unbeatable ice-breaker away from the classroom.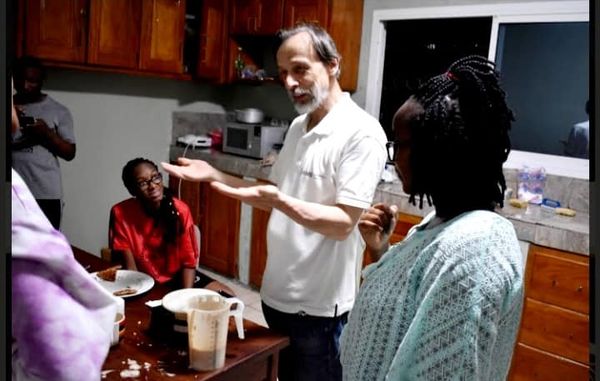 Students of every cohort he has taught over several years keep unique memories of incredible moments spent with the multi-talented Prof. Martin who says AIMS is not only about Mathematics.
This year, the surprise came on April 6th when 37 students and their tutors of the 2020-2021 cohort received invitations to join Prof. Martin after dinner in the kitchen of the Research Centre to make German Waffles and eat the desserts together.
The preparation exercise was not only an opportunity for the eminent Professor to share the centuries-old traditional German Waffles recipe but also to further bond with the students in a precious relaxed environment. As the students spread chocolate on their hot love-shaped waffles, their minds recorded one more unforgettable moment at AIMS Cameroon.
Prof. Martin Eichner is a Professor at the Clinical Faculty of Tübingen University, Germany. After doing field and laboratory work on Onchocerciasis in Cameroon, he graduated as a Biologist at Tubingen University, where he later earned a PhD in Mathematics. He also holds degrees in Epidemiology and Medical Biometry. His area of expertise is Mathematical Modelling of Dynamic Systems; Computer Simulations; Infectious Disease Epidemiology, Parasitology and Statistical Data analysis■