Graduating students of AIMS Cameroon's 8th Cohort will display Africa's rich diversity today July 15th during the "CULTURAL DAY" organised by the students' Social Club. Activities will include an Exhibition of traditional meals, a Fashion Show in traditional outfits and Traditional Dances from Cameroon, Ghana, Kenya, Nigeria, Ivory Coast, and Zambia.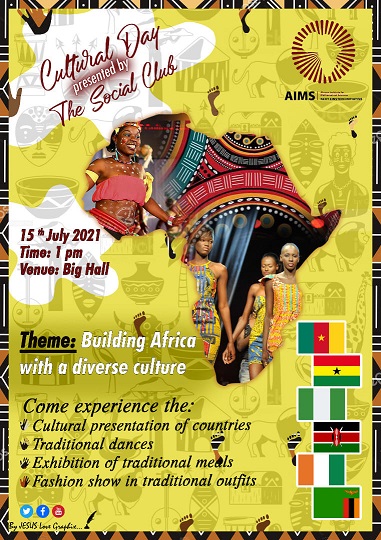 "Our diversity is what makes our strength. It will be a time of joy, happiness and we want to keep these good memories with you all," says a release from the Social Club this morning.
The Cultural Day will hold under the theme "Building Africa With A Diverse Culture", in the presence of the CEO of AIMS Global Network, Ms Lydie Hakizimana, ahead of the Graduation Ceremony tomorrow July 16th in Limbe.
# WorkingTogetherIsSuccess #AIMSGrad2021