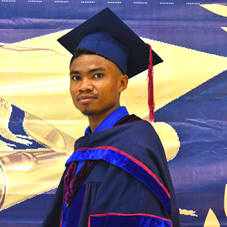 Jean Lucien Randrianantenaina is an enthusiastic problem-solver with a deep passion for mathematics and computer science, hailing from Fianarantsoa in the southern region of Madagascar. He holds an MSc in Mathematical Science, majoring in Fundamental Science. During his study at AIMS, he enhanced his mathematical knowledge, programming, and soft skills. He had the opportunity to engage with individuals from various backgrounds and origins. In addition, he was involved in diverse activities, particularly in IT, like video recording, programming forums, and assisting students with computer programming or addressing computer-related issues.
Before AIMS, he studied at the faculty of Sciences, University of Fianarantsoa Madagascar, where he obtained a Bachelor's degree in Mathematics and Applications, specializing in Fundamental Mathematics. Currently, he is in the final stage of completing his research master's thesis.
Jean Lucien's research interests span the fields of pure and applied mathematics and computer science. He is particularly fascinated by algebra, number theory, cryptography, machine learning, and deep learning. With a strong desire to contribute to the community, he aims to undertake research that brings about meaningful advancements and benefits society.
Overall, He enjoys learning and tackling challenges that require him to apply his interpersonal skills and technical know-how, as well as those that provide opportunities for personal growth.
Jean Lucien is dynamic, flexible, creative and always ready to face challenges.
Homepage: https://fahazavana.github.io